All of us know that occasionally someone touches our lives, befriends us, and cares about our well-being without expecting anything in return. The happiness that friendship can bring does much to encourage us to believe in ourselves; in fact it promotes good mental health. The COMPEER Program understands how valuable friendship is for people who are recovering from a mental illness.
Our Mission: Through the power of supportive friendships, Compeer serves as a bridge to enhanced wellness
and community integration for those with social and emotional barriers. Compeer connects volunteers with individuals in mental health recovery. Volunteers provide supportive friendship and mentoring relationships to offset feelings of loneliness. Compeer friendships bring happiness and wellness to adults in recovery of a psychiatric brain disorder. We envision a day when all communities embrace individuals and their families living with mental health challenges; when prevention begins early with children and their families; when living, learning, working and volunteering in the community is given expression through the social inclusion of all individuals and supported by the power of friendship and hope.
Friendship is expressed in many special ways – walking, sharing stories, going to a movie, having a soda, phone calls, e-mail or a corresponding pen-pal – keeping in touch through good times and rough ones too!
We can help find a volunteer opportunity that fits your lifestyle and schedule.
COMPEER Volunteers . . .
• Commit to spending approximately four hours per month, with their friend enjoying shared
interests at a mutually agreed upon time
• Receive initial training following screening, with chances for additional training, as well as
continued support
• Training topics discuss advocacy, active listening, and overviews of mental health and the mental
health system
• Enjoy COMPEER-sponsored picnics and outings with their friends
• Number in the thousands as they help reduce the isolation, loneliness, fear and loss of self-esteem
of those dealing with mental illness
• Number in the thousands as they help reduce the isolation, loneliness, fear and loss of self-esteem
of those dealing with mental illness
Individuals seeking to participate in the friendship program . . .
• Are referred by their therapist or intensive case manager.
• Generally, show increases in their senses of security, self-esteem, positive risk taking (such as
education and employment training), communication skills, social skills, interpersonal
relationships, and independence
• Experience decreased psychiatric hospitalization rates, and use of emergency services
• Find it easier to comply with treatment plans and medication requirements
• Enjoy visits with their COMPEER friends, as well as, phone calls and e-mails
Interested in joining the Compeer Friendship Program? Print out a Traditional Compeer Referral form here.
If you are interested in becoming a volunteer for the Compeer Program. You can print out a Volunteer application here.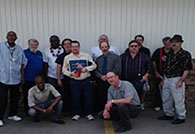 Many United States military veterans are combating mental and behavioral health problems, homelessness, physical disabilities, lack of community integration and acceptance, while other veterans have died by suicide.
CompeerCORPS provides one-to-one supportive friendships between veterans on the path to mental health recovery and veterans who are established in civilian life. CompeerCORPS is considered an adjunct to therapy that both reduces the overall cost to the current system of care and increases the effectiveness of clinical mental and behavioral health therapies.
A CompeerCORPS friendship is viewed as an enhancement to the well-being of a veteran who already participates in mental health care. CompeerCORPS can recreate the camaraderie that exists between veterans.
REFERRAL PROCESS
When ready for a CompeerCORPS match, the veteran client can decide to join the CompeerCORPS program, with the understanding that their referring mental health provider will be a resource for the coordinator and volunteer and that a signed release of information is necessary. While the coordinator finds an appropriate match (based on likes, interests, experience, and availability) for the client, the client is encouraged to participate in Compeer community outreach and events. Once matched, the strength of the CompeerCORPS program is based on reciprocal communication between all participants, including the veteran client, volunteer, coordinator, and referring provider.
Do you know anyone interested in joining the Compeer Vet to Vet Program? Print out our Veteran Referral form here.
VOLUNTEERS
The volunteer should submit an application if they are able to commit to the friendship connection for at least one year. The coordinator and provider of mental health services are available for ongoing support. The volunteer must be a veteran and be able to perform and adhere to the requirements as established by the CompeerCORPS Program as found in the Compeer Operations Manual. Additional volunteers are found by example of trusting and encouraging friendships experienced through the CompeerCORPS connections.
If you are interested in becoming a Volunteer for the Vet to Vet Program, please print out a Volunteer application here.
"We enjoy simple things, like a movie at home or watching the Steelers on TV."
"My friend is a joy to be with and her pet birds are really special."
"My Compeer friend keeps busy by helping with chores in the apartment building where he lives. He calls me to let me know when it will be a good time for us to get together."
"As a volunteer, he has been an inspiration to me. He is kind and caring, and my friend forever."
"We have been Compeer friends for 8 years. Through laughter and sadness, we have a trust in each other that will never end."
"My friend is married and I have adopted a grand-child during the time, since we were connected in friendship with the Compeer Program."
"We make plans to get together for lunch, share our stories, experiences of good times and troubles. Compeer is as easy as being a friend."
Join Us... You Can Make a Difference!